Growth comparison trials in Colombia between Troutlodge and a European competitor strain
In trials currently underway, Troutlodge's Colombian distributor Truchas Surala is proving the advantages of Troutlodge strains over the European competitor strain in Colombia.
Troutlodge received feedback information from Truchas Surala regarding Troutlodge's growth performance. This data shows that Troutlodge strains in the Colombian market are proving superior against other strains from a European competitor. Weight and size results were shared among three different farms in Colombia with two different strains.
In the growth trial comparisons the following was noted:
60,000 eggs per strain per farm
Average temperature of 10.5C
Results shown up to 89 days of follow-up
Fry raised using the same feeding strategy (Ad libitum)
The results compare Troutlodge strains with strains from a European competitor. All results were averaged in the graphs below and the day of the eggs arrival is represented as day one.
Troutlodge presented greater weight at all sampling points compared to the European strain. In addition, Troutlodge reached twice the weight, 100% more, on day 89 compared to the European strain.
The European strain showed to be longer at the beginning and on day 47 it is 0.2 cm longer than Troutlodge. However, Troutlodge quickly overtook the European strain on day 64. Thereafter, the difference in length becomes greater in favor of Troutlodge and by day 89 Troutlodge is 0.5cm longer than the competitor European strain.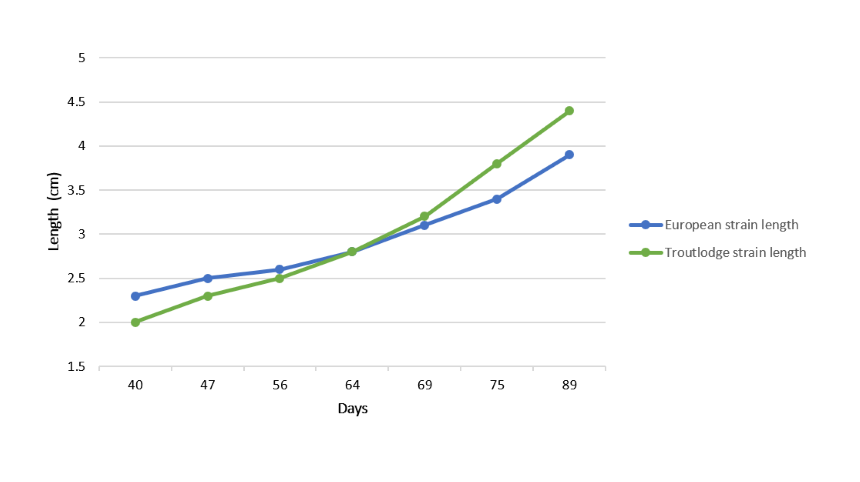 " Thanks to the test that some clients of our company are doing (comparing a competitor European strain with Troutlodge) and they very kindly shared their data with us, we were able to draw strong conclusions that leave us no doubt that we are working with the best (Troutlodge):
The size of the eggs has nothing to do with their genetic quality or their growth.
The difference in growth was already almost double at 90 days of incubation at 10 C.
The dispersion of the batch with Troutlodge was obviously less (in the next few days we will obtain dispersion data).
In spite of the fact that the European strain offered eggs with resistance to diseases, the mortality of Troutlodge was 20% lower.
Troutlodge genetics reacted faster to feeding stimuli.
We are very happy to work with Troutlodge and we are measuring all the differences quantitatively, dispersions, percentages etc. , so we are taking real data methodically; We are aware that if we measure our productions we can not only control them more but also plan and anticipate the challenges and production throughout the year. With Troutlodge we have that flexibility of being able to change the plan according to our productive needs. " - Eduard Sarmiento, Truchas Surala)
This comparison shows that Troutlodge is the logical choice. Our genetic selection program is dedicated to enhancing the quality and value of every egg we produce. Continuous improvement is at the core of what we do and although we recognize that our eggs are the finest on the market today, we realize that there is always room for further development. Therefore, we constantly gather feedback from customers and dedicate significant resources to continuously improve the quality of our eggs.
We will continue to write about this trial and the ongoing work being conducted by Truchas Surala in Colombia.