Counting eggs
Troutlodge U.S. egg shipments are electronically counted with extremely high accuracy, and generally include an agreed "overage" which is typically 3%. Troutlodge are very careful about counting the number of eggs supplied in each shipment.
Some customers' internal policies require them to make their own count on arrival to confirm they have received numbers listed on the packing list.
Best hatch rates are achieved by rehydrating, disinfecting if necessary and placing eggs directly into incubation as quickly as possible upon arrival.
Given that, there are a variety of ways to count eggs as outlined below. Whichever system is used to count the eggs, it is recommended to take several samples to ensure a proper count, remember that these are estimation methods, not precise counts.
This is recommended as it is quick, simple and accurate and utilizes a trout egg measuring trough, easily made but also available from Troutlodge on request.
The trough measures 30.5cm (12") length (inside dimension), with a 45º bend and a depth of approximately 3.5cm (1.4").
There are two steps in using the Von Bayer method
First sizing the eggs
Then counting the eggs

Sizing the eggs:
Eggs during transit can become dehydrated and slightly smaller in size so it is important to rehydrate the eggs in flowing water.
Fill your Von Bayer trough with a single row of eggs.
Use a non-sharp pointed object (pencil) to discard extra eggs from the trough. Do not
force the eggs into the trough. The eggs should fit side-by-side, just touching, but there
should not be any spaces.
Count the number of eggs that fill the trough.
Refer to the Von Bayer chart, at the end of this guide, to determine the size of the eggs (eggs per litre or liquid ounce).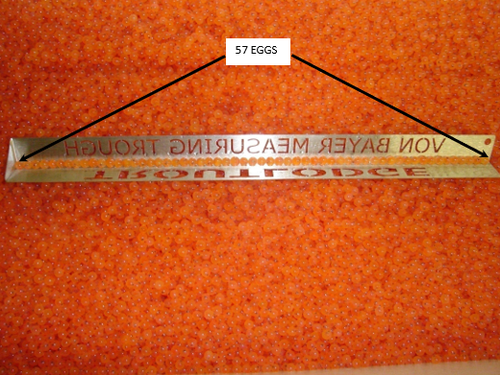 Place eggs touching side by side in the trough and then count eggs
Take a 1 litre (or 1 quart if using fluid ounces.) plastic measuring cup or jug. If necessary, cut off any portion of the cup that is over the 1 litre or 1 quart mark. This will make it faster and easier to level the measured eggs.
Fill the measuring cup at least half full of water.
Use a strainer (plastic rice colander works well) and add eggs to the cup. Tap the side of the cup to get rid of air bubbles and to settle the eggs. The eggs will displace the water in the cup.
Level eggs at the top of the cup by gently scraping off excess eggs.
Pour measured eggs into separate container.
Repeat until all eggs have been measured / counted.
Multiply number of litres (or quarts) by the number of eggs per litre (or quart) as per the Von Bayer chart. This will give you the total number of eggs.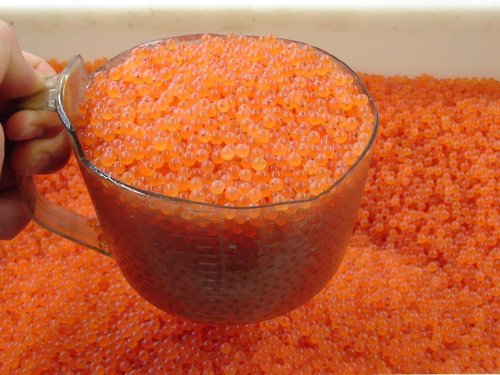 Measure and count all the litres in the shipment and multiply by number per litre for total eggs.
Electronic egg counters are available from specialist suppliers but are expensive and are usually only considered by the largest hatcheries needing to count large volumes of eggs. Electronic egg counters can count more than 200.000 eggs per hour with a 99% accuracy level.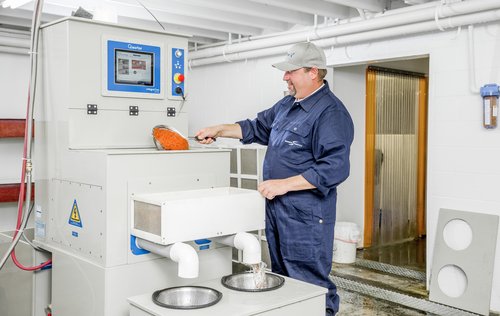 Electronic egg counters
Von Bayer Chart for the estimation of the number of eggs
| Number of Eggs per 12" Trough | Diameter of Eggs (Inches) | Diameter of Eggs (mm) | Number of Eggs per Liquid Quart | Number of Eggs per Liter | ~Number of Eggs per Liquid Ounce |
| --- | --- | --- | --- | --- | --- |
| 35 | 0.343 | 8.712 | 1,677 | 1,772 | 52 |
| 36 | 0.333 | 8.458 | 1,833 | 1,937 | 57 |
| 37 | 0.324 | 8.230 | 1,990 | 2,103 | 62 |
| 38 | 0.316 | 8.026 | 2,145 | 2,267 | 67 |
| 39 | 0.308 | 7.823 | 2,316 | 2,448 | 72 |
| 40 | 0.300 | 7.620 | 2,606 | 2,754 | 81 |
| 41 | 0.292 | 7.417 | 2,690 | 2,843 | 84 |
| 42 | 0.286 | 7.264 | 2,893 | 3,057 | 90 |
| 43 | 0.279 | 7.087 | 3,116 | 3,293 | 97 |
| 44 | 0.273 | 6.934 | 3,326 | 3,515 | 104 |
| 45 | 0.267 | 6.782 | 3,556 | 3,758 | 111 |
| 46 | 0.261 | 6.629 | 3,806 | 4,022 | 119 |
| 47 | 0.255 | 6.477 | 4,081 | 4,313 | 128 |
| 48 | 0.250 | 6.350 | 4,331 | 4,577 | 135 |
| 49 | 0.245 | 6.223 | 4,603 | 4,864 | 144 |
| 50 | 0.240 | 6.096 | 4,895 | 5,173 | 153 |
| 51 | 0.235 | 5.969 | 5,214 | 5,510 | 163 |
| 52 | 0.231 | 5.867 | 5,490 | 5,802 | 172 |
| 53 | 0.226 | 5.740 | 5,862 | 6,195 | 183 |
| 54 | 0.222 | 5.639 | 6,185 | 6,536 | 193 |
| 55 | 0.218 | 5.537 | 6,531 | 6,902 | 204 |
| 56 | 0.214 | 5.436 | 6,905 | 7,297 | 216 |
| 57 | 0.211 | 5.359 | 7,204 | 7,613 | 225 |
| 58 | 0.207 | 5.258 | 7,630 | 8,063 | 238 |
| 59 | 0.203 | 5.156 | 8,089 | 8,548 | 253 |
| 60 | 0.200 | 5.080 | 8,459 | 8,939 | 264 |
| 61 | 0.197 | 5.004 | 8,851 | 9,354 | 277 |
| 62 | 0.194 | 4.928 | 9,268 | 9,794 | 290 |
| 63 | 0.191 | 4.851 | 9,712 | 10,264 | 304 |
| 64 | 0.188 | 4.775 | 10,184 | 10,762 | 318 |
| 65 | 0.185 | 4.699 | 10,638 | 11,242 | 332 |
| 66 | 0.182 | 4.623 | 11,225 | 11,863 | 351 |
| 67 | 0.179 | 4.547 | 11,799 | 12,469 | 369 |
| 68 | 0.177 | 4.496 | 12,203 | 12,896 | 381 |
| 69 | 0.174 | 4.420 | 12,846 | 13,574 | 401 |
| 70 | 0.171 | 4.343 | 13,533 | 14,302 | 423 |
| 71 | 0.169 | 4.293 | 14,020 | 14,816 | 438 |
| 72 | 0.167 | 4.242 | 14,529 | 15,354 | 454 |
| 73 | 0.164 | 4.166 | 15,341 | 16,212 | 479 |
| 74 | 0.162 | 4.115 | 15,916 | 16,820 | 497 |
| 75 | 0.160 | 4.064 | 16,621 | 17,565 | 519 |
| 76 | 0.158 | 4.013 | 17,157 | 18,132 | 536 |
| 77 | 0.156 | 3.962 | 17,825 | 18,837 | 557 |
| 78 | 0.154 | 3.912 | 18,528 | 19,580 | 579 |
| 79 | 0.152 | 3.861 | 19,270 | 20,365 | 602 |