Every hatch counts
We know that Troutlodge customers are discerning and value both quality and performance. This is why we monitor the hatch rates and performance of each batch of eggs we produce, feeding back this information to reinforce that Troutlodge is the logical choice for your business. 
We want to ensure not just year-round availability of genetically superior eggs, but that those eggs are healthy and have a high hatch rate. For this reason, we dedicate significant resources to ensure our product exceeds industry standards. Our hatching project, which has been in place since 2007, is designed to give us full surveillance of our products' hatch performance. This is currently done on a lot number basis in which spawn date, maternity age, strain of fish, farm of origin and ploidy can be identified and tracked.
Our thorough program runs every week of production, with every lot shipped to customers sampled as part of the project. With over 550 weeks of data, our extensive database can show detailed information that can be quickly filtered for multiple factors and show long and short-term trends. Our standardized process is followed to a t, in order to ensure that data is both reliable and consistent. 
Eggs are held on ice in a Styrofoam cooler for 1-3 days to simulate a shipment. Eggs are then tempered, counted, and disinfected before they are reincubated in discrete hatch boxes. Samples are held and observed for up to six weeks before hatching, yolk sac absorption, and swim up is completed. Once entered into the computer the data is then organized into several parameters, which is  then used to create an annual report and made available.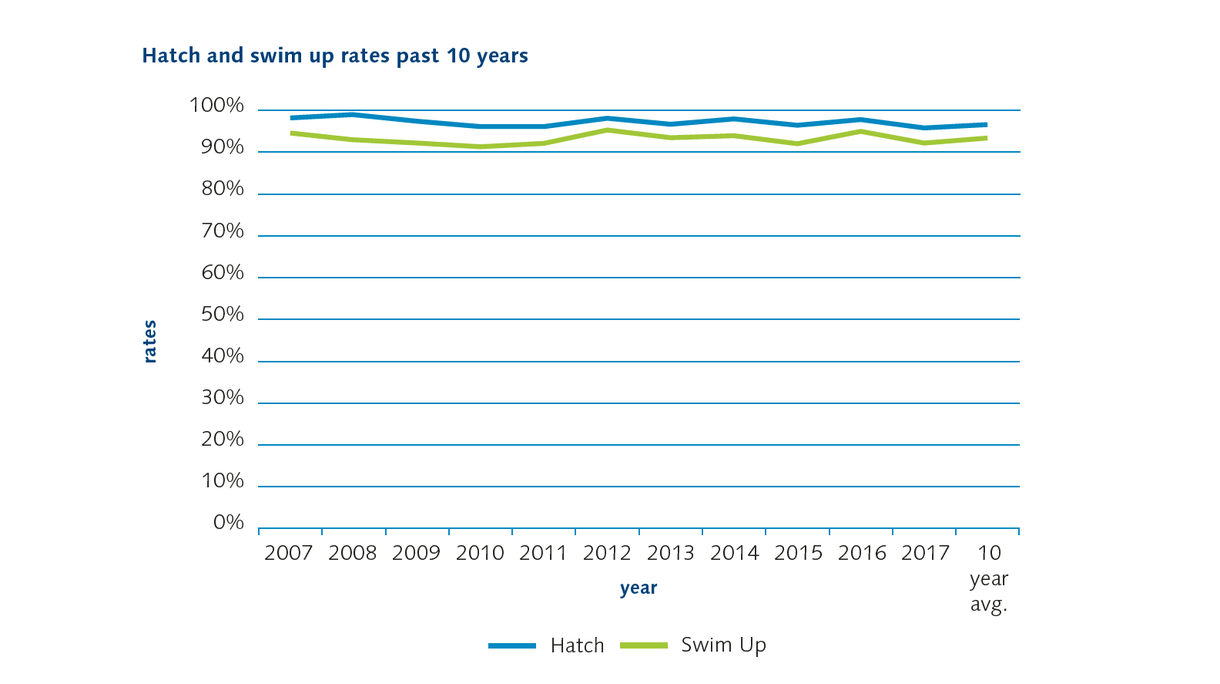 At Troutlodge we believe we always have to be one step ahead, it is for this reason that we continue to further invest in this project. 2017 alone saw a 31% increase in samples when compared to the previous year. Although Troutlodge guarantees customers a 90% hatch rate, our 2017 samples showed an actual combined hatch rate of 97.8%. Furthermore, swim up rates for 2017 were 94.1%. The fact that we keep such a close check on our product ensures that we can catch issues quickly. This is a vital part in our commitment to deliver the best product in the industry to our customers.  
If you would like more information about this project or would like to know more about our products get in touch with us.