Troutlodge Trout in Recirculation Aquaculture Systems
Recirculation aquaculture systems (RAS) are increasing in prevalence and offer an alternative to traditional flow through raceways or net pens. Environmental conditions can vary significantly in traditional outdoor systems, particularly as temperature and photoperiod change with the season. RAS systems, on the other hand, generally more stable and can be manipulated to provide optimum conditions for fast growth. As these systems gain in popularity throughout the industry, we wanted to evaluate the growth performance of Troutlodge trout in RAS.
For the comparison, growth data collected at Troutlodge's Rock Creek facility as part of the Standard Growth Profile project was compared to growth data collected at a small scale RAS facility.
Cohort
Location
Water System
Temp °C
Feed Rate
Feed Type
Lighting
Raceway @120%
Troutlodge Rock Creek
Flow-through raceway
(225 L/s)
13.2
120%
Skretting
ambient
Raceway @150%
Troutlodge Rock Creek
Flow-through raceway
(225 L/s)
13.2
150%
Skretting
ambient
RAS
RAS Research Facility
>99% Water Re-use
12.8
100% to 150%
Skretting
24hrs
Table 1: Parameters describing the growth conditions for each cohort and location.
The fish used for the comparison were diploid females from Troutlodge's Spring 2020 Steelhead production group, which directly reflects the genetic composition of commercially distributed eggs.
Temperature across productions systems varied by less than 1°C, however lighting strategy varied significantly with ambient lighting for the flow-through system and 24hrs of light in RAS. Two different cohorts were grown in flow-through raceway conditions, the only difference being feed rate, with one receiving 120% and the other receiving 150% of manufacturers recommended diet (see the Aug newsletter for details). Fish in RAS were fed 150% up until an average size of 1kg, then 100% thereafter, and both groups were grown to 2+kg.
To allow a direct comparison of growth at different temperatures, figure 1 shows growth relative to the accumulated temperature units (also known as degree days (DD) or thermal units (TU)). As expected, fish fed 150% of the manufacturers recommended diet grew more quickly than those fed 120%, reaching 2kg at 4900 ATUs. In the RAS conditions, growth was slightly faster, reaching 2kg average size after 4750 ATUs.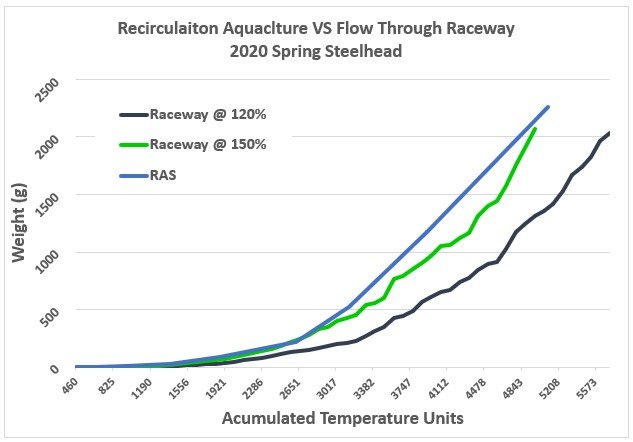 Figure 1: Growth performance of Spring Steelhead in flow-through raceways at 2 different feed rates, and a Recirculation Aquaculture System (RAS).
Although the majority of trout farming happens in either traditional flow-through raceways or net pens, the prevalence of RAS systems is increasing. Often, trout are grown to large size (2kg or more) in RAS and sold at a high value as fillets.
This trial shows that Troutlodge trout are well suited for fast growth in RAS. Under proper management, growth rates can exceed those in more traditional systems making Troutlodge eggs the logical choice for RAS systems.